Banda 1621-2021
International Roundtable Series
https://bandaseries2021.wordpress.com
The year 1621 marks a turning point in the colonial conquest of the Banda Islands in Indonesia, which accomplished a principal aim of the Dutch East India Company (VOC) to establish a monopoly on the valuable spice trade in nutmeg and mace. On May 8th, it will be exactly 400 years ago that Jan Pieterszoon Coen ordered the execution of prominent Bandanese and subsequent raids which led to the depopulation of the archipelago. Subsequently, the VOC brought in enslaved people from various parts of Asia and East-Africa, including a small part of the previously expelled Bandanese. The Banda Islands served as a precedent for later Atlantic conquests of the Dutch West India Company (WIC), founded in the same year.
Participants: Nancy Jouwe, Wim Manuhutu, Pepijn Brandon, Merve Tosun, Matthias van Rossum, Joëlla van Donkersgoed and Beatrice Glow.
—
History, March 10, 2021
The first roundtable in the series about the historical events on the Banda Islands in 1621, this session will discuss the historical implications of the Dutch colonial violence and whether the term genocide is appropriate. With: Muhammad Farid (Ind), Pepijn Brandon (NL), Tristan Mostert (NL) and Martine van Ittersum (UK).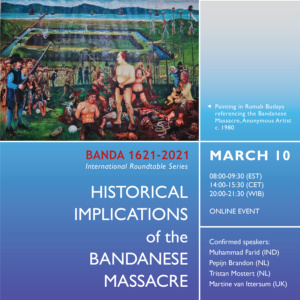 Read further: