Dutch Memorial Day: Maintaining colonial innocence by excluding people of color

The Conversation, May 3, 2019, By Annemarie Toebosch Director of Dutch and Flemish Studies, University of Michigan
On Dutch Memorial Day – May 4 – the Netherlands remembers its war dead from World War II and after.
A close look at the holiday reveals a culture that maintains its innocence about a history of colonial oppression.
Indonesia declared independence from the Netherlands on Aug. 17, 1945. This followed 350 years of Dutch East India Company control and Dutch state rule, as well as Japanese occupation during WWII.
After the declaration, the Netherlands waged a war to re-establish colonial control over Indonesia. The war, whose dead included Indonesians killed by summary execution, cost an estimated 300,000 Indonesian lives and around 6,000 casualties on the Dutch side.
While Indonesia has, to some extent, faced its history of decolonization violence, the Netherlands has not done so.
As a social scientist and director of Dutch and Flemish studies at the University of Michigan, I examine the reasons for this in my writing and teaching about issues of inclusion in the Dutch-language area.
…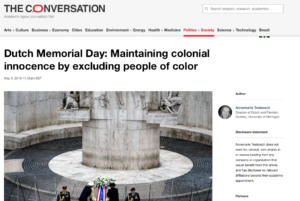 Read full article: https://theconversation.com/dutch-memorial-day-maintaining-colonial-innocence-by-excluding-people-of-color-116410