Alfred Birney's 'The Interpreter of Java' is not only an intensely personal story about a traumatized family, the book also reveals a dark history suppressed by the Dutch for decades.
Tempo, October 22, 2017, by: Linawati Sidarto
"When the plane touched the tarmac of Jakarta airport, I just started crying." It was 1987 and Alfred Birney was visiting his father's birth country for the first time. "When I got off the plane, I saw people all around me looking just like my father: the way they talk, their gestures."
Although Alfred was born and raised in the Netherlands, his father's heritage has haunted him all his life. "I officially started writing the book in 2012, but, in fact, I've been carrying it with me for 30 years." The 540-page De Tolk van Java travels through time and place, telling the parallel stories of a father and his son in Surabaya, East Java, and The Hague.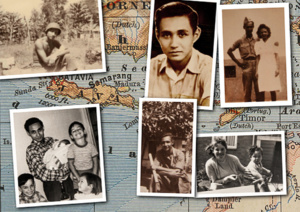 The book became a critical and a commercial sensation, winning this year's most prestigious Dutch literary prizes, as well as selling close to 90,000 copies. Before the summer recess, Prime Minister Mark Rutte gave his cabinet members copies of the book to read.
Most of the book is based on the lives of Alfred and his father Adolf. "It's 'faction': fiction based on facts," Alfred said in his spartan The Hague apartment, dominated by a guitar and bookshelves. The parts about his father's life in East Java are based on Adolf's own account, written in a 600- page manuscript.
Adolf was born in Surabaya in 1925, the youngest son of a Chinese mother and an Indo-European father. While they were together for many years, his parents never married. "He and his siblings were never considered fully Dutch, which had consequences in the colonial society," from lower social standing to loss of inheritance, Alfred explains. "Many Indos have an inferiority complex."
After the end of World War II, young Adolf—who spoke 14 languages—sided with the Netherlands and got hired by the Dutch marines as an interpreter. In reality, Adolf and other 'interpreters'—young Indonesian or mixed-heritage men—had to do the dirty work for the marines, from interrogating and torturing prisoners to fighting on the front lines of the guerrilla war the Dutch had to wage against Indonesia's freedom fighters. In 1950, Adolf left for the Netherlands.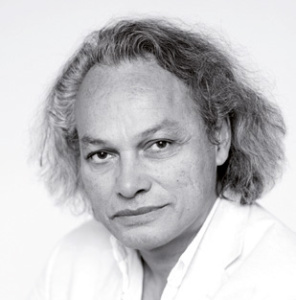 There he married a small-town shoemaker's daughter. She was thrown off the deep end in her marriage with the traumatized Adolf, who carried the violence of his war years into their home. Alfred was the oldest of their five children, born in 1951. His mother, in turn, never showed any interest in understanding Adolf's background, and her incomprehension extended to her 'brown' children. "According to my mother," Alfred wrote in his book, "we came from a different planet."
The family lived under the constant threat of horrible beatings from Adolf. When Alfred was 14, his mother managed to run away, placing her children in foster care. He spent the next four years in three foster homes, followed by a transient existence for years as a musician. An injury on his finger ended his music career, and Alfred turned to writing full time. In the past three decades, he has written novels, short stories, essays, and newspaper columns.
Family ties, loss, and the search for identity feature as consistent themes in his writings: struggles shared by the larger Indo community in the Netherlands. During the colonial rule in Indonesia, many Dutch civil servants and merchants came to live in the archipelago, married locals and raised families. After Indonesia's independence, hundreds of thousands of Indos—those of mixed Indonesian and European heritage— migrated back to the Netherlands.
The gruesome tortures and killings committed by Adolf and his comrades—for decades dismissed as 'incidental' excesses of violence in Dutch colonial history—are evidence of what historians Remy Limpach and Gert Oostindie believe were structural violence committed by Dutch troops during the colonial war, as outlined in their recently published books.
While riddled with almost caricaturesque brutality, Birney's book is never black-and-white. In one scene, he describes how a raging mob of pemuda (young Indonesian fighters) slaughtered Dutch civilians in Surabaya's city center. "A pregnant woman was mercilessly skewered. Her unborn child came out ailing, and was also stabbed." In another section of the book, his father describes how he had to shoot through an Indonesian mother with her child in her arms, used as human shields by a freedom fighter.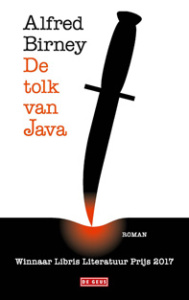 With literary nesse, Alfred manages to combine the rawness of his book—"I want the readers to really feel that fist in their face"—with humor and tenderness. On the home front, he gives nuance to his dysfunctional parents. Although his mother 'saved' them from their violent home, it was his father who never missed an opportunity to visit his children at their foster homes. His mother, who had promised to get them out of the foster homes, never did, and often skipped visits.
While Alfred knew he had written 'an important book', its enormous success, he said, "completely took me by surprise." He still has to get used to the public recognition, as posters of him and his book are seen all over the country. When he spoke in June at the Tong Tong Fair, a major annual event in The Hague celebrating the Indo community, he received a standing ovation from the packed auditorium. The audience was so proud that 'finally one of our own' was recognized by the wider Dutch public. "After all these years, the Indos still look for that pat on their backs from the white tuan besar (master or lord)," Alfred said with his trademark fusion of irony and exasperation.
Two of his earlier books, Vogels rond een Vrouw (Birds Surrounding a Woman) and De Onschuld van een Vis (The Innocent Fish), have been translated into Indonesian under the titles Lalu ada Burung and Ikan tanpa Salah, respectively, in 2002 and 2004 by Yogyakarta publisher Galang Press. This time, the major publisher Gramedia will translate Alfred's latest book, set to come out some time next year. Talks are currently underway for translations in German, French and English, said a spokes-man of his publisher De Geus. "I'm very curious how readers in Indonesia would react to this book."
—
The London-based publishing house 'Head of Zeus' releases the hardcover version of the English translation of 'The Interpreter from Java' on September 3, 2020: