Light monument for victims of colonialism at Coen [momument]
Hoorngids, January 12, 2013
HOORN – About fifty supporters of the Committee May 7  placed burning candles around the statue of J.P. Coen on the Roode Steen square on Friday. A beautiful sight for sure, but especially intended as a tribute to the victims of Dutch colonialism.
Initiator Max van der Werff of Committee May 7 considers J.P. Coen as the founder of Dutch colonialism.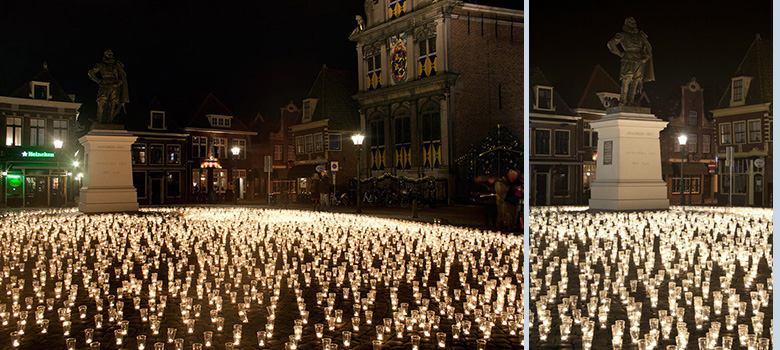 In their statement, the committee says:
Around the statue of Jan Pieterszoon Coen in Hoorn, thousands of lights have been lit this evening in memory of the victims of colonialism in Indonesia, Suriname, the Dutch Antilles, South Africa and other former Dutch territories.
Why the statue of J.P. Coen?
Because it is shameful that the city of Hoorn returned the fallen statue of J.P. Coen to his pedestal in 2011. The governor-general of the VOC burned Jakarta to the ground in 1619. In 1621 he depopulated the Indonesian Banda Islands, killing around 15,000 men, women and children, before stolen Chinese slaves were put to work on the islands in the cultivation of nutmeg.
Why now?
Because this year is the 150 year anniversary of the abolition of slavery in the then Dutch colonies of Suriname and the Netherlands Antilles. But also because we are living in a time when the voices of the victims of Dutch colonialism are drowned out by stressed out nationalists who want to express their unabashed pride in the history of their country – and who explain away the systematic slavery practices, murder and robbery of the VOC (Dutch East India Company) and WIC (Dutch West India Company) by characterizing them as 'normal for that time' or as 'collateral damage' of the Golden Age.
Every May 4 on Dutch Memorial Day, we commemorate the Dutch dead who fell in war and peace operations since World War II. It is about time that we commemorate the many innocent victims that Dutch people made themselves during four centuries of colonialism. The horrors of this are still fresh in our memory. We had only just been liberated from the German occupier when our government sent soldiers to the then Dutch East Indies to suppress the ignited struggle for independence there. Hundreds of thousands of people died there in five years.
We have commemorated these and other victims of colonialism in Hoorn, at the most controversial statue of our country and probably even of Europe.
We welcome any suggestions for a continuation of this commemoration. Perhaps a fixed day can be designated for this? For example, May 4, at the same time as the commemoration of the victims of the Second World War. And with the statue of Coen stored in a museum or another place where it can no longer be seen as a tribute.
—