J.P.

Coens Statue in Hoorn topic of 'city talks'



Trouw, April 17, 2021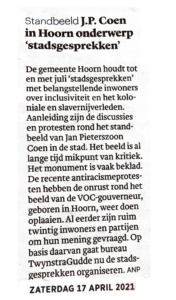 Until July, the municipality of Hoorn will hold 'city talks' with residents about inclusion and the history of colonialism and slavery.
The reason for this initiative is the debate and protests in relation to the statue of Jan Pieterszoon Coen in the city.
For a long time the statue received criticism.
The monument was often defaced.
The recent anti-racism protests revived the unrest around the statue of the VOC governor, who was born in Hoorn.
More than twenty residents and organizations have already been interviewed regarding their opinion.
In this context, the Twynstra Gudde agency is now going to organize the city talks.