Tears from the past at Balai Pemuda
Surya, 10 April 2016, by: Johan Rintahani Pradana (Master Student University Negeri Malang)
A Dutch lady, Pia van der Molen, once received a file with documents from the relatives of Jack Boer concerning the whereabouts of Dutch families who used to live in Indonesia in mid 1945. Jack Boer is known as the man who, in 1945, helped the allied forces to free [Dutch] internees from Koblen-prison in Surabaya.
Pia felt responsible and started a search to the story behind the names, the alleged victims in the turmoil of the revolution at the beginning of Indonesia's independence in Surabaya.
Pia's search resulted in a documentary titled 'Archief van Tranen', which was the subject of discussion on 9 April 2017 at the Ten November Museum in Surabaya. "Hopefully the screening and discussion will help to bridge the different historical perspectives between Indonesia and the Netherlands," says Marjolein van Pagee, founder of Histori Bersama.
The more than hundred visitors are watching the documentary with full attention. In comparison with the general historical narrative in Indonesia the film gives a very different picture. It portrays the Surabaya freedom fighters as violent and despicable; as persons who do not mind to kill prisoners, especially Dutch citizens.
These findings trigger the audience to ask questions and come up with ideas. They are quite shocked about this depiction although the seniors know better how to comment on this. It is difficult to agree about history, especially when the events are so controversial. Yet as a lesson; understanding the past is the key to the future.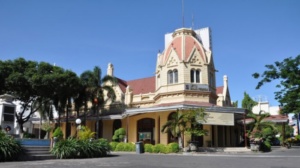 Balai Pemuda Surabaya (Google)
The event begins at 09.00 in the morning and exactly at noon the Roodebrug Soerabaia crew, together with the other visitors, move to Balai Pemuda in Surabaya.
This is the building that the documentary claims as the location of the massacre of Dutch and Eurasians by the youth of Surabaya in October 1945. The audience is still attentively listing to the explanations of the presenters and they also explore every corner of the building as well.
At least the discussion gives a new perspective for the younger generation in Indonesia, about how Dutch people look at the history of our two countries. It is inevitable that there will be differences in perspective but to prevent endless debates it would be wise to see history as an on-going learning process.
http://surabaya.tribunnews.com/2017/04/10/tangisan-sejarah-itu-berasal-dari-kawasan-balai-pemuda
[Originally published in Indonesian. Translated by Agustinus Tamtama and Marjolein van Pagee. Please send us an e-mail if you think you can improve the translation: info@historibersama.com]