Winternachten, January 18, 2020, The Hague
For this occasion, Reggie Baay imagined a letter that Dr. Mohammad Hatta could have written to Dutch Prime Minister Colijn
—
Banda Neira (Indonesia), 15 June 1939,
Excellency,
There is something I must get off my chest. Something I am deeply concerned about, for it will determine the relationship and future of our two peoples in a negative manner, and will perhaps even damage this irreparably. I was recently made aware of the news that in the Dutch Parliament, the parliament of which you personally are prime minister, has suggested in all seriousness that, and I quote, 'at least a century will pass before the Indonesian is ready for independence…'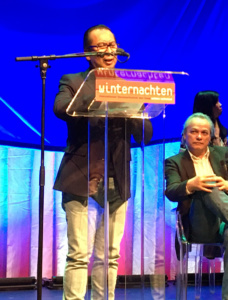 With the utmost respect, and if it pleases you, most honourable prime minister, but we are living in the year 1939! When I first got word of this statement, I could hardly believe there are Dutch politicians today who sincerely dare to claim and/or even believe this! I First and foremost think of you, sir, who personally took part in the Aceh War or the Lombok Expedition. You of all people must know that a people that has been gagged and enslaved for years and now claims its freedom and independence cannot be contained no less than one can contain a swollen, swirling mountain river in monsoon season?
Most excellent Prime Minister Colijn of the Colonial Netherlands, your name sounds much like that of an rodent that is well known in your country, and it would appear that you wish to emulate this beast, at least in the sense of its most important trait. By this I do not mean its legendary capacity for reproduction, rather its other great trait. Do you constantly keep gnawing? Gnawing away at the Indonesian people's lawful right to self-determination, under the pretence of the Indonesian being a dependent and incompetent child and therefore in no way capable of self-determination? Do you continue glossing over the real reason for this, which is nothing more and nothing less than the unlawful and shameless desire for the continual exploitation of the people and land of Indonesia, as your country has done for the past three and a half centuries? Are you not troubled by conscience gnawing away at you? I assure you, Your Excellency, that the day will come when what you and your fellow members of parliament are doing will be called 'framing'…
The painful irony is that I write all this to you as a man in chains. Political chains imposed on me by your predecessor; indeed, as a result of that lawful and boundless longing for the freedom and independence of myself and my people. Yet have these years of suppression, these years of imprisonment, first in the infamous Boven-Digoel prison camp and now on Banda Neira, done anything to dampen this flame? Quite the opposite!
Need I remind you again, Your Excellency, that we are writing in the year 1939, and just as in your parliament the 'expectation' has been expressed that at least one hundred years will pass before the Indonesian is ready for independence, I also wish to express an expectation. Namely, the expectation that, before the next decade is through, and as the result, alas, of a bloody struggle for independence, I will have sat at a table with your Queen to accept the inevitable independence of my people and country. Mark my words: world history shall prove me right! I have spoken.
Sincerely,
Dr. Mohammed Hatta
—
© Reggie Baay
[Translated from Dutch by Scott Emblen-Jarrett]