Notorious Bersiap-denier Pondaag reports Rijksmuseum to the police for using the word Bersiap
Federatie Indische Nederlanders FIN, January 26, 2022
* (This is a quick Google translation, in case you wish to work on a proper translation, please contact us at info@historibersama.com)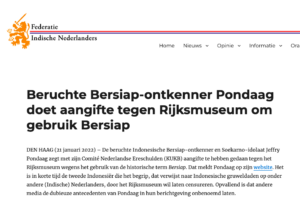 THE HAGUE (January 21, 2022) – The infamous Indonesian Bersiap-denier and Sukarno idolater Jeffry Pondaag and his Committee on Dutch Honorary Debts (KUKB) have filed a police report against the Rijksmuseum for using the historical term Bersiap. Pondaag reports this on his website. In a short period of time, it is the second Indonesian who wants the term censored by Rijksmuseum, a term that refers to Indonesian atrocities committed against, among others (Indo-) Dutch people. It is striking that other media leave the dubious antecedents of Pondaag unnamed in their reporting.
The radical Pondaag is highly controversial and infamous for denying the Bersiap. He did this, for example, in a conversation with the leadership of the large Indies investigation, after he had published an open letter together with other activists. Pondaag shouted at that meeting, among other things: "Who are those people who commited Bersiap? Who are they? Indonesians?! How do you get to it?" In addition to Pondaag, co-signers of the militant De Grauwe Eeuw, the Decolonization Network Former Dutch East Indies (DVNI) and the controversial activist Lara Nuberg, who is also a member of DVNI, sat at the table. In practice, the overlap between the various action groups is very short. For example, the board of KUKB also includes Noëlla Soeters, known for #Geen4MeiVoorMij, among others. The comments of Pondaag, who previously also successfully conducted lawsuits on behalf of relatives of Dutch violence in Indonesia, are usually not limited to denying the Bersiap. In particular, (Indo) Dutch people are regularly portrayed by him as war criminals, racists and traitors.
Pondaag's report, which also calls for the Golden Carriage to be set on fire, therefore seems primarily intended to once again offend victims and relatives of the Bersiap. His declaration follows a week in which the Rijksmuseum decided not to ban the term Bersiap after all. Earlier, Indonesian guest curator Bonnie Tiryana had just announced that he would be removing the term from his upcoming exhibition. According to Triyana, the term would be "racist". Triyana was supported in this by the outspoken pro-Indonesian professor Remco Raben, who is also involved in the controversial exhibition as an advisor. The threatened deletion led to angry reactions from victims and relatives. The Dutch Federation of Indies (FIN) subsequently filed a police report against Triyana for Bersiap denial. Several political parties also spoke out against the plans. Not much later, the Rijksmuseum announced that it would not delete the term. The decision was a disappointment to anti-colonial activists.
Bersiap (1945-1946) is Malay for "Be ready" or "Pay attention!". It is the battle cry of Indonesian (para)military organizations and gangs, which almost immediately after the capitulation of Japan sowed death and destruction among initially mainly non-Indonesians in the Dutch East Indies. During this extremely violent period, thousands of (Indonesian) Dutch people were brutally tortured, raped and murdered by Indonesians, because of their Dutch or European ethnicity. The exact number of Dutch victims is still unclear. Estimates vary between 5,000 and 30,000 dead and 15,000 missing. Chinese, Moluccans and other groups were also victims, although it is unclear how many. The violence against and the massacres of the civilian population did not stop after 1946, but continued until the late 1940s. In mid-1947 there was another explosion of violence, also referred to as the Second Bersiap. It was against this background that the government decided in 1947 to deploy the army on a large scale in the Dutch East Indies.
—