Security guards Indies Monument in The Hague, the municipality reports the defacing of the monument
NOS, August 14, 2020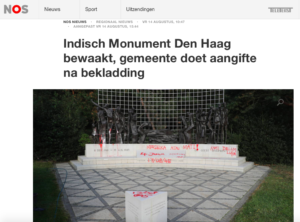 The Municipality of The Hague has reported the defacing and destruction of the Indies Monument. Last night an action group painted in red their slogan 'Kami belum lupa' on the monument. That means "we have not forgotten". The date 17/08/1945 was also marked on it. On that day Sukarno proclaimed the independent state of Indonesia.
The Indies Monument is clean again. The municipality will now monitor and secure it. The monument commemorates the Dutch victims of the Japanese occupation of the former Dutch East Indies in World War II.
The monument is owned by the municipality of The Hague. "The Indies Monument was defaced last night and partly destroyed. That is really disrespectful", the municipality said in a statement. "Together we ensure that the commemoration will not lose its dignity."
The red paint was removed this morning.
The monument was defaced just before the National Remembrance Day of August 15th, 1945, which is held annually at the monument. Tomorrow the king and a limited number of guests will come to the Indies Monument, at the Scheveningse Bosjes near Madurodam. Due to corona measures, this year's commemoration has no public character.
The Indies Remembrance Center (Indisch Herinneringscentrum) can imagine that people want attention for the atrocities committed in the Dutch East Indies. "But I think it is inappropriate to do this at a memorial", says director Yvonne van Genugten in the NOS Radio 1 Journaal. "Because we commemorate all the victims of that war, the Indies-Dutch people, Indonesians, Chinese, Moluccans, the whole diverse group."
The National Commemoration Foundation on 15 August 1945 does not see the commemoration endangered. "I am only concerned about the people who are now so [emotionally] affected by the defacing", John Sijmonsbergen of the organization tells Omroep West.
'Particularly painful'
"You don't take these types of actions into account," says Sijmonsbergen. "Our statement is that during the national commemoration tomorrow we commemorate all victims of the war against Japan. Both in the Netherlands and in Indonesia. The defacing of the Indies Monument is disrespectful towards all these victims and particularly painful for all relatives and those involved, in the Netherlands and abroad. "
"Messages are now pouring in on Twitter and Facebook from people who are really shocked. But we are going to commemorate tomorrow. The cleaning has been done, all preparations are ready and we are setting up for the event. So that will all work out."
The action has been claimed by a group that calls itself Aliansi Merah Putih. The alliance wants to "get justice for the atrocities committed during the illegal Dutch occupation of Indonesia".
In June, the action group also defaced the statue of Johan van Oldenbarnevelt near the Hofvijver in The Hague, with the text 'Fuck VOC'.
'Disgusting'
After the defacing, the Federation of Indies-Dutch people (FIN) received signals that the Indies Monument might also be defaced. "One of the signals was a notification that 268 more monuments would follow," says a FIN spokesman.
He calls the defacing of the Indies Monument disgusting. "We are shocked but not surprised. We had previously asked the police and the municipality of The Hague for extra security."
Due to the corona virus, the commemoration is not public, only a few invitees will be present. In addition to King Willem-Alexander, those present also include Prime Minister Rutte and State Secretary Blok.
—