The Netherlands barely informed Indonesians about damages for executions
Nu.nl, December 9, 2021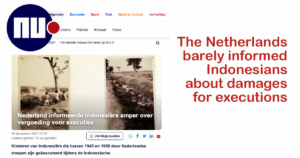 Since October 2020, children of Indonesians who were executed by Dutch troops between 1945 and 1950 during the Indonesian War of Independence, can receive damages of 5,000 euros from the Dutch State. In November the Dutch Ministry of Defense said that the scheme of damages had been widely publicized in Indonesian media, but that turned out to be a too rosy picture.
Our country has not actively brought the possibility of damages to the attention of the Indonesian media, according to the Dutch ministries of Defense and Foreign Affairs, after NU.nl asked them about it.
The Dutch ministry of Defense knows of only one Indonesian medium that has reported the possibility of damages: an English-language edition of the news weekly Tempo. However, that article does not explain how children of parents who have been executed by the Netherlands without trial can actually claim the damages.
The Dutch Foreign Affairs and Defense ministries claim that they have informed Dutch lawyer Liesbeth Zegveld, who assists the Indonesian relatives*, about the arrangement. Lawyer Irwan Lubis, who assists relatives from Indonesia on behalf of the Committee of Dutch Honorary Debts (Komite Utang Kehormatan Belanda; K.U.K.B.), was also informed. Zegveld confirms to NU.nl that the ministries have contacted her about the arrangement.
In the first year since children of executed Indonesians can claim 5,000 euros of damages, nineteen relatives have already done so. All applicants come from the island of Bali, where the Netherlands held, among other things, torture camps during the war of independence.
—
* This is wrong, Zegveld no longer assists Indonesian relatives, she broke contact with Jeffry Pondaag and K.U.K.B.
Read also:
Sjoerd Sjoerdsma urges Minister to remove expiration period new compensation scheme
Dutch Lawyer Liesbeth Zegveld Withdraws From the Indonesia Cases – K.U.K.B.