K.U.K.B. Chairman Criticises Jonkhoff's Activities on Bali as She Claims to be a Dutch Lawyer 
DenPost, Sunday, 27 June 2021
The Chairman of the Dutch Debts of Honour Committee (K.U.K.B.), Jeffry M. Pondaag, protested against the activities of a Dutch national, Anna Jonkhoff, on Bali who claimed to be a lawyer. Pondaag said that Jonkhoff had hijacked the work of K.U.K.B. by sidelining him as the Chairman of K.U.K.B. and also ignoring the experience and knowledge of a number of people.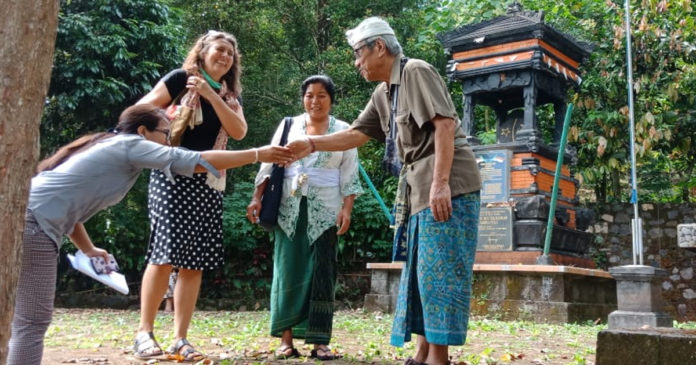 Pondaag, in his recent email to DenPost, admitted that he had met Jonkhoff prior in 2016. In that same year, Jonkhoff also travelled to Sumatra together with the K.U.K.B. foundation to visit Indonesian victims of Dutch executions in Bandar Buat. "At that time, I agreed that Jonkhoff would join our group, which included Yvonne Rieger-Rompas, Brechtje Vossenberg and Liesbeth Zegveld," he said. In April 2021, Pondaag was delighted because Jonkhoff had expressed her desire to help K.U.K.B. in conducting additional research to support the victims in Bali who had been executed and slaughtered by the Netherlands Indies Civil Administration (NICA). "Yvonne Rieger-Rompas suggested that we could ask the help of Jonkhoff, so I agreed," he said.
However, Pondaag explained to his K.U.K.B. team that Jonkhoff was no longer working as a professional lawyer in the Netherlands. Therefore, Pondaag was surprised to find out that Jonkhoff told Indonesian media that she was there in her capacity as a lawyer. At that time, three Indonesian media covered Jonkhoff's activities  in Bali. "After I contacted their editors, they said they didn't know that she (Jonkhoff) was no longer a lawyer. This is misleading for victims in Bali who will think that she can represent them in court," he added.
He also protested against the fact that Jonkhoff used her residential address in Bali [for the application of documents to the Dutch Court], but not the  official K.U.K.B. address in the Netherlands. Pondaag accused Jonkhoff of hijacking the Bali case. "This is not the first time that cases handled by the K.U.K.B have been hijacked by outsiders. Relatives of the victims are the top priority for our organisation, but Jonkhoff is excluding us while making use of our knowledge, contacts, and the framework that we have built in the past years," Pondaag said.
Before Jonkhoff conducted her research in April 2021, the K.U.K.B. had already worked on the Bali case. For example, on 8 December 2020 and 15 May 2021, the K.U.K.B. has transferred money to finance the research on Bali. In agreement with Dutch lawyer Liesbeth Zegveld, the K.U.K.B. forwarded the Bali case files to law firm Prakken d'Oliveira on 31 January 2021. Furthermore, Pondaag also accused Jonkhoff of behaving like the [Dutch] colonial government and committing racist acts through divide and conquer tactics. He said Jonkhoff is guilty of dividing the organisation, and that is why K.U.K.B. cannot tolerate her actions. "In the past 16 years, there have been several people who have tried to divide us, so I know exactly how to recognise it when it happens," Pondaag said.
—
Read here the email from Jeffry Pondaag to Anna Jonkhoff in English translation