Activist reports Rijksmuseum to the [Dutch] Police: The Netherlands Never Recognized Indonesia's Proclamation
CNN Indonesia, 24 January 2022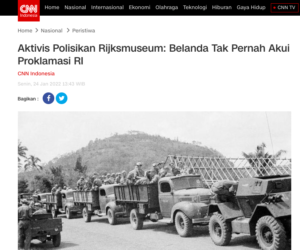 Jakarta, CNN Indonesia – The Committee of Dutch Honorary Debts (K.U.K.B: Komite Utang Kehormatan Belanda) reported the Dutch National Museum, the Rijksmuseum, to the police prior to the art exhibition 'Revolusi Indonesia' (Indonesian Revolution), which will be held from February to June 2022 in Amsterdam. The Rijskmuseum is considered to nullify Indonesia's history, which proclaimed its independence on August 17, 1945.
"Jeffry Pondaag, the chairman of KUKB. reported the Rijksmuseum, with Harms Stevens as the curator and Taco Dibbits as the director, to the police," said the KUKB in its press statement to CNNIndonesia.com on Saturday (21/1).
The KUKB report was a response to the Rijksmuseum's insistence on using the term 'bersiap' (get ready) in the exhibition, which involved Indonesian curator and historian Bonnie Triyana. The latter was previously reported to the police for writing an opinion piece against the use of the word 'bersiap' in the exhibition.
Jeffry believes that the Rijksmuseum is playing a role in falsifying Indonesian history. According to him, Indonesians recognise the period between 1945 and 1947 as "Agresi Belanda" (the Dutch Aggression). However, the Dutch recognise that period as 'Periode Bersiap' (the Bersiap period). Within the Netherlands, the Dutch came to understand that period as a time where Indonesians acted cruelly against Indo-Dutch people.
"The Rijksmuseum ignores the real cause: colonialism, an occupation. By framing the Bersiap as ethnic violence, the Indonesian dead are being erased," said Jeffry.
"If the Dutch regard Indonesia as their territory and view its inhabitants as its own residents, then who were the people who carried out the killings during the Bersiap era? The Dutch considers December 27, 1949 to be Indonesia's day of independence. Of course, they cannot refer to the perpetrators of violence as 'Indonesian citizens', because from their perspective Indonesia did not exist," he said.
Jeffry therefore concluded that, in this way, the term 'Beriap' is openly used to avoid recognising August 17, 1945 as Indonesia's day of independence.
"Therefore, the KUKB foundation emphasises that the word 'Bersiap' is not just racist, but also a falsification of history," he stated. Separately, the Rijksmuseum confirmed that it will still use the term 'Bersiap.' The term will be used to focus on the personal experiences of the people involved.
"We would like to clarify that the Rijksmuseum and its curators do not deny the violence and suffering associated with that term, nor the pain felt by many people to this day," said Jacobien Schneider, the Chairman of the Indonesian War of Independence Exhibition at the Rijksmuseum, when approached by CNNIndonesia.com.
—