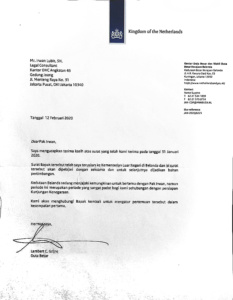 February 12, 2020*
Dear Mr. Irwan,
I thank you for the letter, which we received on January 31, 2020.
I have forwarded your letter to the Ministry of Foreign Affairs in the Netherlands and the contents of the letter will be studied carefully and subsequently taken into consideration.
The Dutch Embassy is exploring the possibility of organizing a meeting with Mr. Irwan, but our schedule in this period is very tight because of the preparation of the State Visit.
We will contact you again to arrange the meeting when we have the chance.
Best regards,
Lambert C. Grijns
Ambassador
—
* Although the letter is dated February 12, it was delivered two weeks later on February 29 (in an envelope without stamps at the home address of Irwan Lubis). Earlier, on February 24, thus more than three weeks after the first letter of the Indonesian relatives was delivered at the embassy in Jakarta, Irwan Lubis (spokesperson for Indonesian relatives) sent the following Whatsapp to Roel van der Veen, Head of political affairs at the Dutch embassy in Jakarta: "Good morning Mr. Roel … 🙏 Hereby I would like to ask if it is possible to meet again. Hopefully it is possible. I thank you for your understanding and time sir … 🙏 Greetings .. Irwan Lubis." Then Roel van der Veen replied (without mentioning the ambassador's letter dated February 12): "No time! We have to prepare for the State Visit. Later there will be time – sorry."