Grandson of Independence Fighter in South Sulawesi Refuses Rp15 Million Damages from the Netherlands
CNN Indonesia, 03 October 2020, By: Angga Indrawan
Jakarta, CNN Indonesia – The family of Andi Abubakar Lambogo, an Indonesian independence fighter from Enrekang, South Sulawesi, rejected the ruling of the court in the Hague which sentenced the Dutch government to pay €874.80 (Rp15 million) damages for war crimes carried out during the 1947 Dutch aggression.
On 13 March 1947, Andi Abubakar's troops from Battalion 1 were ambushed by KNIL soldiers in Salu Wajo village. There was an intense battle in which Abubakar got shot in the thigh, he was taken prisoner with several of his men and then they beheaded him. His severed head was impaled on a bayonet and displayed on the local market.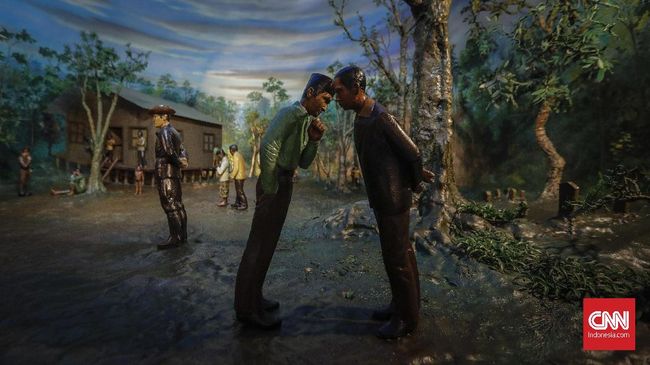 "We will return the money to protest against this decision. We demand an apology and a fair treatment comparable to other independence fighters," says Andi Abubakar Lambogo's grandson, Ricky Lambogo, speaking as a family representative to CNNIndonesia.com, Friday (2/10).
Ricky also demanded the involvement of the [Indonesian] State to support and resume the case against the Dutch government. The family finds the [Dutch] Court ruling an insult to the [Indonesian] nation.
"I want to ask a question, where is our dignity as Indonesians in this matter?" he says.
Ricky complains about the minimum involvement of the [Indonesian] government; he believes they do not take this problem seriously. He has tried several times to contact government representatives such as the National Commission on Human Rights (Komnas HAM) and several TNI officials.
"Although I asked them for their help to strengthen our case in the Dutch court," he says.
Ricky admits that so far, his lawsuit has only been assisted by several parties including the Dutch Debt of Honour Committee (KUKB) since 2016. Ricky questions the State's presence in this case because his grandfather received decorations for serving the nation during the war from the district government, the legion of veterans, and President Sukarno.
Abubakar was declared a national hero of Indonesia in the award letter No.36840 which was signed by Sukarno on 10 November 1958. Should there ever be doubt regarding this matter in public, Ricky states that his grandfather's name is commemorated as a street name and a football pitch in Enrekang up until this day.
"If I could afford the money I would go to Jakarta to protest and tear up the letter from Sukarno in front of the palace," he says.
Quoted by CNNIndonesia.com from Historibersama.com, KUKB chairman Jeffrey Pondaag in his statement on Thursday (1/10), said that the Dutch court handed down the judgement regarding Malik's lawsuit that was first submitted to the court in 2016.
"On Wednesday, 30 September, the civil court in The Hague announced that they convicted the Dutch State for the beheading of the Indonesian independence fighter Andi Abubakar Lambogo, who was murdered by the Royal Dutch East Indies Army (KNIL) in 1947. His son Malik Abubakar, will receive €874.80 in damages," said Jeffrey.
Many parties have expressed their disappointment about the Dutch Court's ruling which convicted the Dutch government to pay Rp.15 million in damages; one of them is Irwan Lubis who acts as the legal counsel for the Indonesian representatives of the victims of the Dutch aggression. (khr/ain)
—