Fundraiser by K.U.K.B. chairman Jeffry Pondaag via: https://www.gofundme.com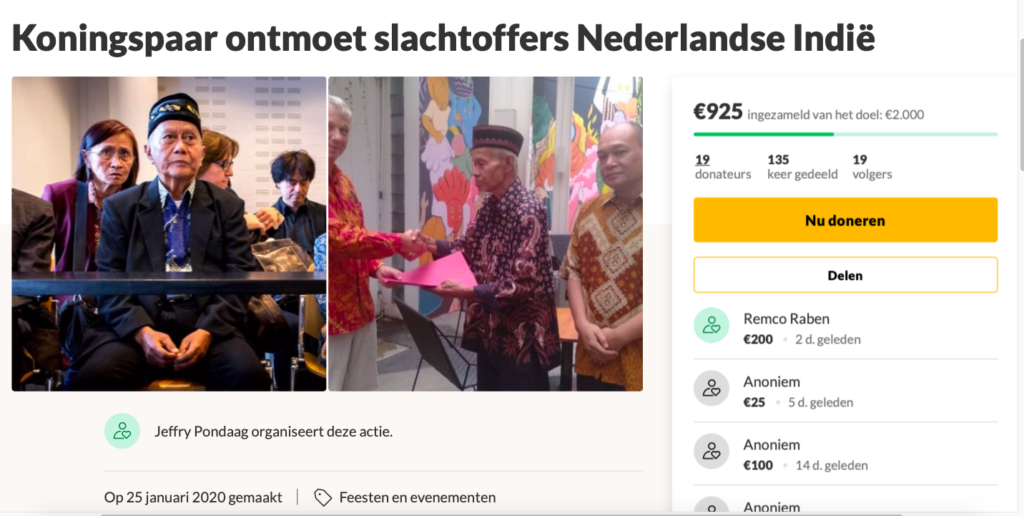 On March 10-13, 2020, King Willem-Alexander and Queen Máxima of the Netherlands pay a state visit to Indonesia. A large trade delegation follows them there. This collection is to give people who saw their fathers executed and murdered by the Dutch military the opportunity to attend this state visit.
We cannot of course separate a visit like this from 350 years of violent colonial occupation, an occupation that the Dutch royal family in particular played an active role in and which added generously to their riches. The royal couple continues to live off of this riches today and has never acknowledged this or offered an apology for it, not to mention restitution. This trade delegation is a colonial affair reminiscent of the VOC, the Netherlands Trading Society, and the Dutch Cultivation System.
The visit comes in a year when Indonesia celebrated its 75th anniversary of independence from the Netherlands. And yet the monarchs choose to be absent from the Indonesian Independence celebrations. Beatrix, the queen mother, did the same in 1995 at the 50th anniversary.  Then too, the royal Dutch visit was a shameless colonial display.
To this day, the Netherlands still does not legally recognise the Indonesian independence date of August 17, 1945. At that time, 75 years ago, the Dutch answer to Indonesia's declaration of independence was an invasion and a ruthless war that cost the lives of hundreds of thousands of Indonesian civilians and freedom fighters. By continuing to deny Indonesian independence of August 17, 1945 today, the Netherlands maintains that it was fully in its right in that war: Indonesia did not exist at that time, this was the Dutch-Indies, Dutch property. 1945-1949 was not an invasion or a war but a "police action" against Dutch subjects in order to secure colonial income.
Now, the royal visit with trade delegation promises once more to become a shameless colonial spectacle. Worse yet, the itinerary includes a formal reception  where only people with a Dutch passport are welcome. As if colonial apartheid laws are still in full force.
To mark the royal visit and trade mission, people who saw their fathers executed and murdered by the Dutch military are traveling to Jakarta to use their voice and be heard by those responsible. In a letter, they demand that the monarchs and the Dutch State recognise responsibility for the summary executions and for murdering their fathers.
They need money for this. Most people who saw their fathers summarily executed or murdered by Dutch soldiers live on South Sulawesi, 1,500 kilometers from Jakarta. It is a trip that can only be made by air, and lodging needs to be covered in Jakarta. We estimate a total sum of € 2.000,- ($ 2.200,-) needed.
If you can spare some money to put this important topic on the map during king Willem-Alexander's visit to Indonesia, any amount is welcome. Many thanks in advance, Jeffry Pondaag on behalf of Dutch Honorary Debts Foundation (yayasan K.U.K.B.)
—