Francisca Pattipilohy, Indonesian living witness of the colonial occupation and critic of the Dutch research, not invited for the public hearing organized by the Dutch Government
[This statement was submitted to the Dutch government Committee of Foreign Affairs].
May 25, 2022. By not inviting the Histori Bersama Foundation for the public hearing of Monday May 30, the Dutch government Committee of Foreign Affairs ignores an important Indonesian eye witness. In recent years, the 96-year-old Francisca Pattipilohy has became an important decolonial voice in the Netherlands. Together with the chairperson of the K.U.K.B. Foundation, Jeffry Pondaag, she criticized the research project when it was launched in 2017. 
They voiced their criticism via an open letter, which Histori Bersama, in their name, sent to the Dutch government on November 27, 2017. The letter was signed by 138 persons and organizations. Multiple times we informed Dutch Members of Parliament. However, because we didn't receive much response on the first letter, Pondaag and Pattipilohy decided to write a second letter on October 23, 2019. 
Now, the K.U.K.B. Foundation has been invited for the public hearing of Monday, while Histori Bersama is not. In this way Ms. Pattipilohy is not given the opportunity to speak. She wrote the open letter together with Jeffry Pondaag. Many times in the past years she has been ignored as co-writer. Pattipilohy's response on the decision of the Committee of Foreign Affairs not to invite Histori Bersama: "now there will be no speaker present who experienced the colonial occupation and who represents the Indonesian perspective." She also believes that it's not a coincidence that unlike Pondaag/K.U.K.B., she or Histori Bersama did not receive an invitation, she sees it as a colonial divide-and-conquer tactic to divide our movement of resistance.
—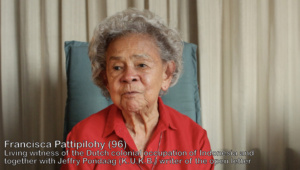 Download in PDF:

More information about this meeting, visit the Dutch government website (in Dutch only): https://www.tweedekamer.nl/debat_en_vergadering/commissievergaderingen/details?id=2022A02615
See also: