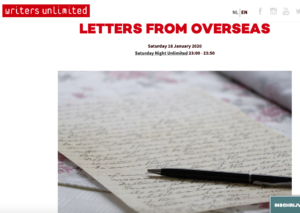 Winternachten, January 18, 2020, The Hague
https://www.writersunlimited.nl/en/programme/letters-from-overseas
In 1795, the once-enslaved but later freed Wilhelmina Kelderman sent a heartbreaking letter from Paramaribo to her former master. The letter never arrived, as it was on a ship hijacked by the English, ended up in an archive, and was only opened two centuries later.
Writers Unlimited festival asked nine authors to write a letter to someone in a (former) colony, inspired by Wilhelmina's entreaty, and to present it at this event. They will recite them in their mother tongue or preferred language of writing; English or Dutch translations will be simultaneously projected.
Participants are Antjie Krog (South Africa), Alfred Birney, Reggie Baay, Ellen Deckwitz, Rosabelle Illes (Aruba), Jolyn Phillips (South Africa), Jasper Albinus, poet Angelina Enny (Indonesia) and poet, musician and theatre maker Robin Block.
—

Histori Bersama got permission from Winternachten and the authors to publish the original letters with the translations.