Wilhelmina Kelderman's letter from 1795
In 1795, the once-enslaved but later freed Wilhelmina Kelderman sent a heartbreaking letter from Paramaribo to her former master, Engelbertus Kelderman, who lived in Amsterdam. The letter never arrived, as it was on a ship hijacked by the English, ended up in an archive, and was only opened two centuries later. Writers Unlimited festival asked nine authors to write a letter to someone in a (former) colony, inspired by Wilhelmina's entreaty, and to present it at this event. They will recite them in their mother tongue or preferred language of writing; English or Dutch translations will be simultaneously projected.
Participants are Antjie Krog (South Africa), Alfred Birney, Reggie Baay, Ellen Deckwitz, Rosabelle Illes (Aruba), Jolyn Phillips (South Africa), Jasper Albinus, poet Angelina Enny (Indonesia) and poet, musician and theatre maker Robin Block.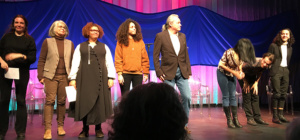 English translation of the letter of Wilhelmina Kelderman:
—
Suriname, March 14, 1795
Your Worship,
Alas, what will this letter will contain but lamentations about the injustices done to me by your agents in this region? Please, Master, listen to my plea, hear my supplications and do not rebuff me, for where would I find any more salvation or comfort, were that to happen? Misfortune dictated that Our Lord removed your dear niece, Mrs. Kuvel, from this mortal coil and took her to Him, leaving behind a tiny daughter only a few hours old. Mrs. De Ridder had me called to her and related the sad story. She also suggested that, since the child no longer had a mother and Mr. Kuvel had been deprived of his dearly beloved wife, I should take up the duties of childcare there in the home. Thinking of Mr. Kuvel and also of you and Mrs. De Ridder, I was not in a position to decline the offer. So I politely accepted and took on the task just until Mr. Kuvel remarried, with Mrs. I.A. Roepel, a very loving and kind-hearted lady who will remain in my praises forever for her lovely character. I have proof of it, when I returned and your agents refused to grant me any benefits or accommodation. And what's more, the girl you had provided to assist me, they took her away and sent her to the plantation. When I asked Mr. Wijne the reason for this, he answered, "Let the people you were with for so long help you. You didn't want to stay in my service, so I have nothing left for you." That is all the harm I did! I thought I was doing something good, but I angered that gentleman. But sweet Mrs. Roepel immediately took me in again. If that had not been the case, I'd have been begging in the street. Master, oh dear Master, think of my advanced age, I can't work as well as I once did, please ensure that I can return to my old situation. Tears are spilling down my cheeks as I think of the injustice.
I sent you an earlier letter but did not receive a reply, so I do not know whether it arrived or not, which was mainly about predicament of my son, Dauphin. What is happening? I am so frightened and full of dread that the sale will go through. Please do nothing that would be detrimental to me; you won't regret it. Just the idea makes me lose courage and think of the grave. Sir, I wanted to send you canned fruit along with this letter, but alas, the agents wouldn't give me any sugar and I have no money to buy any, thus I beg your pardon, sir.
Awaiting your influential reply, I remain,
Your faithful servant,
Wilhelmina of Mr. E. Kelderman
—
[Translated from Dutch by Gudrun Will]